Since the beginning of 2018, Fiorini Industries has collaborated with a leading local enterprise highly experienced in the production of systems dedicated to the cooling of fruit processing and storage centres.
Fiorini Industries, thanks to the teamwork with its client, has created a particular type of "all in one" hydronic kit with pumps for the circulation, chiller and system side, of the water and glycol mixture.
The customer's requirement consisted of managing the distribution of the coolant at temperatures as low as -7°C with a variable flow rate and head of 65 m3/h up to 25 m. The assembly is divided into two bases that can be assembled directly on site, through a system of connections already set up for installation and with the correct coupling between the storage tank and the groups of pumps.
The Fiorini team designed and developed a custom solution consisting of 9 pumps (3 dedicated to the chiller side and 6 to the maxi-cold rooms), 18 victaulic connections, a 10,000-litre storage tank of chilled water that can withstand temperatures of up to -20° C and 2 expansion tanks of 300 litres.
Designing a model capable of satisfying all requirements- taking into account the limited dimensions of the warehouse – was a true undertaking to which Fiorini responded thanks to its professional and technical know-how, also helping the customer to reduce costs and to eliminate installation errors.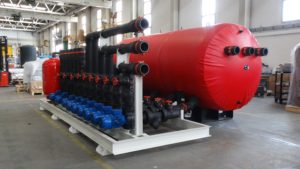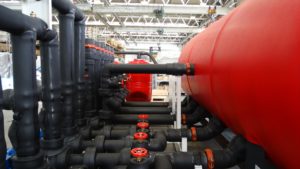 If you would like to know more about Fiorini's tailored solutions or wish to speak to one of Central Heating New Zealand's Commercial Design Engineers please do not hesitate to contact us.